elijah wrote:
So, Carl, is it not possible to make this puzzle with corner turning as well?
Oh I'm sure it is possible. It's just much much harder...
elijah wrote:
If the pieces already flex around the center, you'd think having the 2 halves turn relative to each other would not be a magnificent feat...
Ok... let me detail this issue. The pieces which slide about the equator are in effect all identical. Let's assume we make this puzzle as a sphere. They are rigid solid shapes which must change their orientation slightly relative to each other in order to allow rotation of the slice layer. Here is an animation.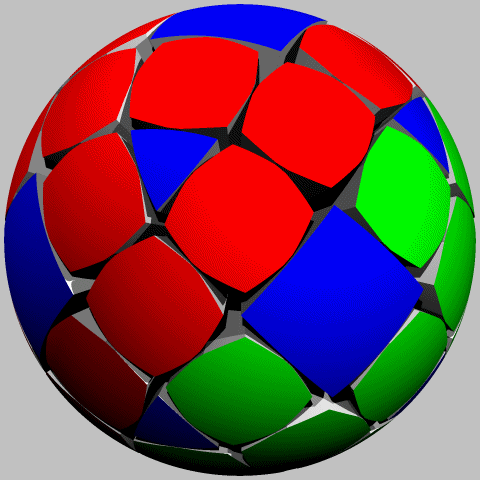 However if one attempts a corner turn with this geometry here is what happens.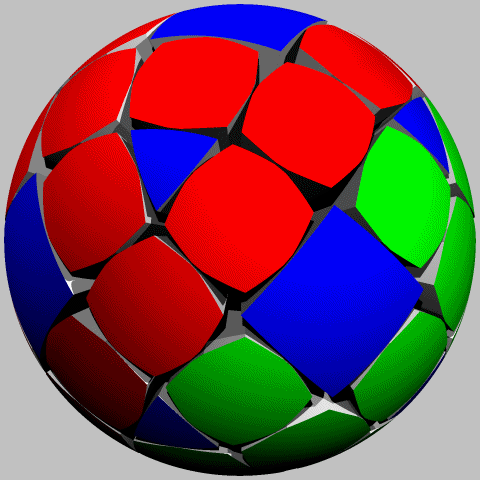 To enable this type of turing I see two options. One options is the sliding pieces could be made spongy. If they were no longer rigid solid shapes but allowed to deform, on paper you could allow this type of turn. I suspect in practice you'd have a very hard time getting something that would allow this type of deformation to work well in a puzzle like this. Certainly nothing that I can think of which can be 3D printed. The second option would be something akin to Oskar's Gear Shift puzzle. If you could pull the corners out, rotate them, and push them back in you could come up with a mech which allowed the sliding pieces to remain rigid. The mech would need some means of holding the sliding pieces tight against the core or they'd be very loose and could either fall out of the puzzle or allow easy rotation of an individual piece.
Of these two options, I think the second has the most promise but its beyond my designing skills at the moment. Oskar is welcome to take a shot at it but I
think
this is more of a "magnificent feat" then you give it credit. Not to single out Oskar, anyone is welcome to prove me wrong. It is one of those cases where I actually hope I am wrong.
Carl