I have just completed my Medium Mental Block mod using a key ring mini skewb puzzle ball core. The idea for this puzzle was proposed by Sigurd, who also generously sold me one of his few remaining puzzle balls.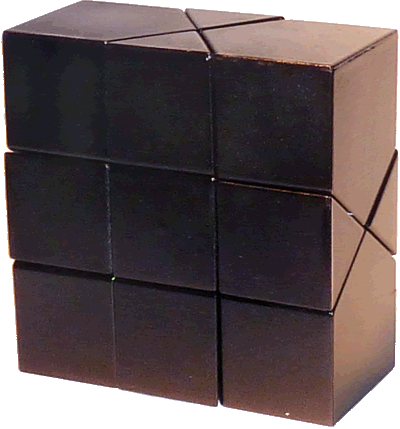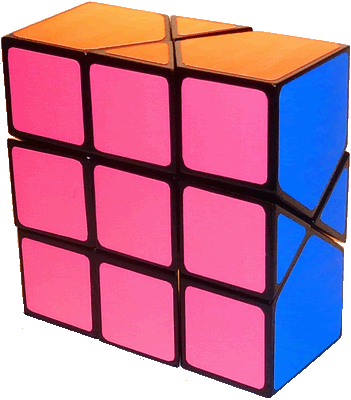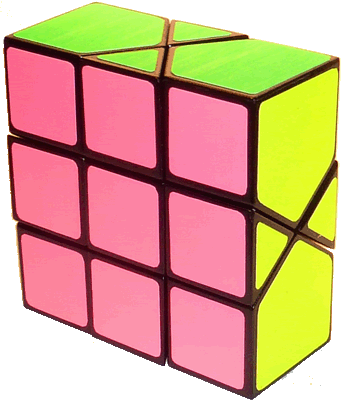 Note that the orange and pink side look the same colour, but they are quite different in real life.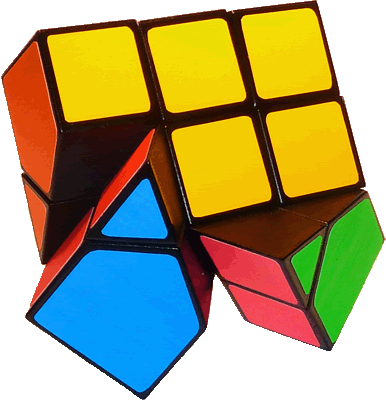 It was designed in SketchUp and printed by ShapeWays in WSF. It is 93x93x43, larger than the
slim design
by gigr posted recently (57x57x29), but smaller than Tony's original 115x115x55 based on the full sized skewb. I have been designing and building this puzzle for some time, and it is just a coincidence that we completed our separate designs almost at the same time.
Now this was my first experience of using WSF so I thought that I would pass on the full story.
First, I had a test print done of one each of the pieces to make sure the fit was perfect. This was a good idea as I did need to tweak some dimensions. I wanted a final finish as smooth as possible so I thought that I would attempt to work on the WSF before dying. So, rather than use sandpaper, I just rubbed one piece against another, which did make a much better finish. Then, I dyed them using RIT dye, which worked very well, resulting in very black parts with a fairly smooth finish. The only exception to this were any areas where I had cut the WSF with a knife. For some reason, these smooth surfaces ended up with a blue or even purple/red finish - luckily all of these cuts were not on exposed faces.
However, I decided that I would like them to look as close as possible to injection moulded ABS, so I needed a shiny, not matt, finish. On one piece I covered each surface with a layer of superglue, just like painting it on. This did make it shiny, but it had a slightly uneven finish with small "bubbles". I then sanded this to as smooth a surface as possible, and after a light polish, which the harder surface could take, it did indeed end up looking like a production puzzle piece. Unfortunately, when I tried repeating this on larger pieces, it was not as good, resulting in a patchy surface which I could not really sand and polish to the same finish. Also, when you use superglue like this it give off a lot of
very nasty
fumes, so this is not recommended without a mask and goggles.
When I received the full print, I decided to sand all the pieces before dying. This was not a good idea. Although rubbing the WSF parts against each other worked quite well, after dying, some of the sanded pieces were blotchy with areas of discolouration spoiling the black finish. I do not know for sure why this happened, as the dye concentration and dying time were the same as the first set of parts. Simply put: don't try sanding WSF before dying. I suppose that the uneven finish could be due to the more aggressive sanding process heating the surface of the WSF and changing its structure, which meant that it reacted to the RIT dye in different ways.
So, now I had one part which looked like ABS; a few which were "half" shiny; and a lot which were smooth but not 100% black.
The only thing I could do was to sand all of the parts to a smooth a finish as possible, and go back to Tony Fisher's method of spray painting, with lots of light coats of black paint, taking care to avoid drips and runs.
After about six or seven coats, I had parts which I was happy with. Assembly was quite simple, just gluing or screwing the new pieces to the disassembled skewb ball core and outer parts.
For the stickering, when I printed off the parts I also printed off a sticker template. I used this to hand cut the stickers from some fluorescent material which I had bought from Tony only a few weeks before. I decided to use this material in because it was used on the original skewb and I quite like it.
The turning of the finished puzzle is excellent, although it lacks the "clicky" movement of the full sized skweb. It is very light, as all of the new pieces are completely hollow, maybe too light for its size. I did consider adding some apoxy skulpt inside the pieces before I glued on the caps, but that's maybe for the next one.
Sorry for the long post, but I thought that my experiences with WSF may help others.