I'm wanting a set of 8 colored symbols like these...
Attachment:
Blue Marble
. Mars is the
Red Planet
. For several of the others I found this
link
which states:
Mars is bright red
Mercury is yellow-green
Jupiter is saffron
Venus is prismatic/crystalline
Saturn is black/ dark blue/ purple
For Uranus and Neptune I found some nail polish colors named Uranus and Neptune which were blue/green and black respectively.
However with some more digging I've found this page:
http://www.inkamera.ukgo.com/colour/index.htm
Which ties:
Mercury to Magenta
Mars to Red
Venus to Green
Jupiter to Blue
Saturn to Black
I've even tried to combine this:
With this: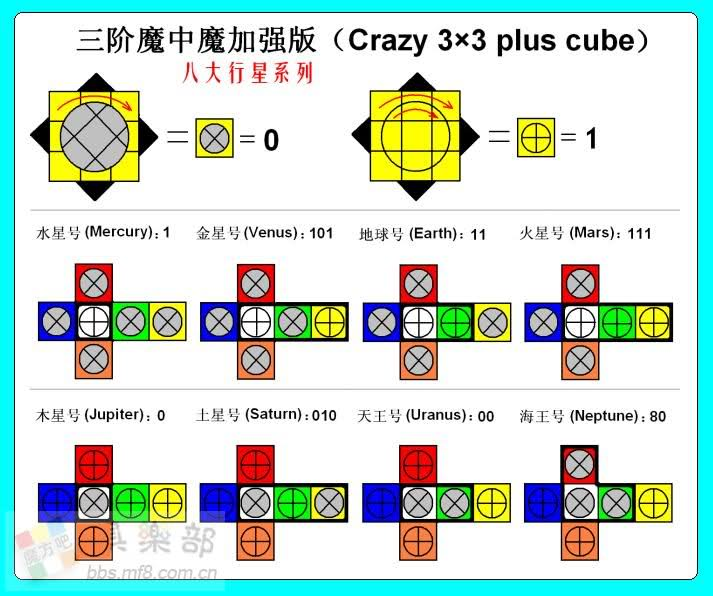 To that end I've tried to interpret the numbering on the MF8 image as a 3 digit binary number:
0=fixed face centers
1=turning face centers
The first digit comes from the yellow face.
The second digit comes from the green face.
The third digit comes from the white face.
Mercury = 001 = Blue
Venus = 101 = Magenta
Earth = 011 = Cyan
Mars = 111 = White
Jupiter = 110 = Yellow
Saturn = 010 = Green
Uranus = 100 = Red
Neptune = 000 = Black
Jupiter and Uranus are missing the leading 1's on the MF8 image with this scheme. And Neptune can't be 100 (as this is Uranus) so its the only 3 digit binary number left. I don't understand how MF8 got 80 but you can also think of 000 as the last 3 digits of the binary representation of the number 8. That produces the set of color/planet pairings above. Its just that I really think Earth should be Blue and Mars should be Red.
Anyone else have know of a set of color associations that assigns a unique color to each of the 8 planets?
There is the strait numbering:
Mercury = 0 = Black
Venus = 1 = Blue
Earth = 2 = Green
Mars = 3 = Cyan
Jupiter = 4 = Red
Saturn = 5 = Magenta
Uranus = 6 = Yellow
Neptune = 7 = White
Not that this has much logic to it either. The set of symbols above are the one I'm happiest with at the moment but was curious what ideas you guys might have.
Thanks,
Carl