How much work should a DIY require? On one hand you have the standard 3x3x3 DIY which requires basically a just screwdriver and a small amount of time. On the other we have the 24 puzzle where you print, prepare and build the entire thing from .stl files.
I have been wanting to offer DIY kit for my
Neon
for some time now.
Unfortunately the cost of supplies and cutting time for the body of my standard puzzle alone is more than most would want to pay for a DIY. That doesn't include the pieces, screws, and separation layers, or even include my time and gas money to get to the shop. So that is a bit of a dead end.
A few months back I attempted to have a production laser company cut parts for 50 puzzles and it
failed
, leaving me with 2000 parts that are cut wrong: Parts too small, holes too big, burrs on each piece. Luckily for me I was able to get my $1300 back so I only lost my time. But I kept wanting to try to use these parts in some way. I hate to waste them.
With work, I was able to build a Neon from them: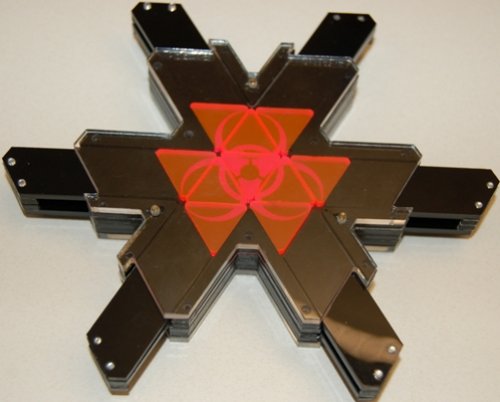 The back plate is a re-used front plate, so it is clear, but I have etched the outline of the text and image I normally etch on my finished puzzle. The outline is faster, saving me time for the lost cost DIY kit: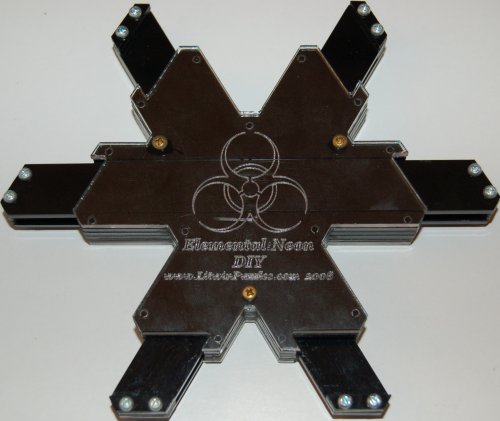 The terrible inconsistency of thickness of the parts means lots of extra spacer layers to even everything out, and the oversized holes meant oversized screws, which can't be countersunk (too big) so I had to cut the top and bottom layers to accommodate the screw heads: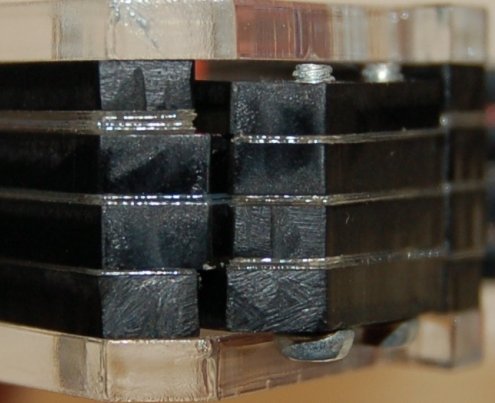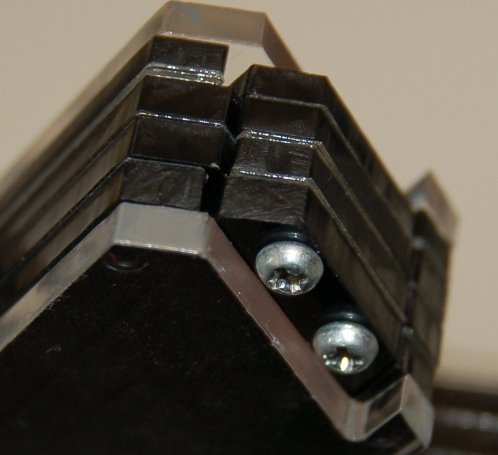 Not as pretty as the ones I cut and build myself (and a bit "looser"), but certainly nice and playable. Given that is is more work for a less attractive end product, I won't be using these parts to build puzzles to sell.
But...
The body parts are basically free at this point given that I had my money refunded. So the cost of a DIY based on these parts is just the cost of some screws, pins and my efforts to cut spacers, pieces and a few adjustments on the top and bottom plates. This is quite a bit less than on anything I have to cut myself.
So the question (sorry to take so long to get to the point) is how much work are people willing to put in to a Neon DIY? Here are the steps needed to get to the point of assembly:
1.) All micro-tabs have to be filed off. These are small, but there are about 30 of them. They look like this: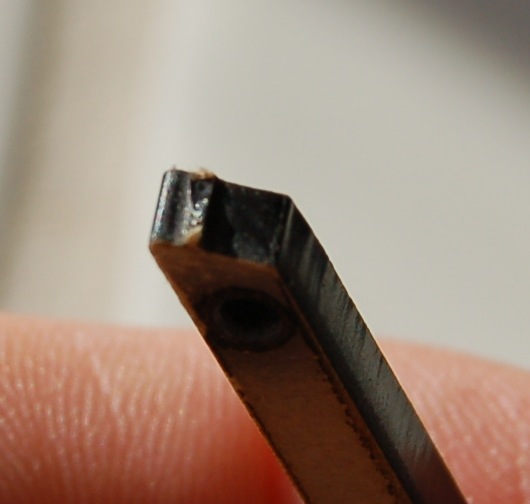 2.) *All* the holes are pretty much wrong. I bought larger sized screws and pins, but the holes need to be drilled to fit them. This is a lot of little holes.
3.) The anchor pieces need to be tapped to accept the screws. Like drilling, but with a more expensive piece of hardware.
If I have to do all of this the cost of the DIY starts to become too high to be reasonable. But there is some middle ground between doing nothing and doing everything. For instance, I could:
a.) Tap the anchor pieces. The tap is about $10 and most people won't ever need one beyond this project so it might be silly for a DIY to require people to buy them
b.) I could perhaps include the proper sized drill bits (two different sizes) as then I can buy them in bulk for about $1 instead of $3-$4 it would cost at the hardware store.
So my choice somewhat depends on who has interest in a DIY and how much much effort they are willing to expend.
The minimum price for a Neon DIY (given I still have to provide the screws, pins and cut the spacers and pieces) is $20, but as I start to do more of the prep, the cost goes up.
So let me know your thoughts on what you might want in a DIY. How much are you willing to do on your own, and how much is it worth to you if you would like me to do it?
Dave